07 Feb 2017
Bahrain's Top Defence Chiefs Attend Various Functions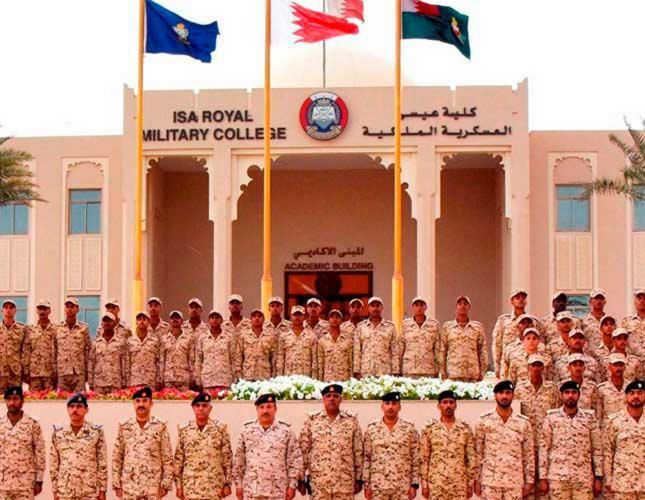 Commander-in-Chief of Bahrain Defence Force (BDF) Field Marshal Sheikh Khalifa bin Ahmed Al Khalifa paid a visit Thursday to a BDF unit and got informed about its administrative and military readiness as well as its preparation and training programs. He praised the efforts of the unit's personnel, their vigilance and keenness to fulfill their duties perfectly, Bahrain News Agency (BNA) reported.
The BDF Commander-in-Chief lauded development and military achievements of Bahrain Defense Force thanks to the directives and support of His Majesty King Hamad bin Isa Al Khalifa. He also praised the high competence and morale of the BDF personnel which, he said, reflects readiness of the Bahraini armed forces to brave all challenges.
Field Marshal Sheikh Khalifa bin Ahmed Al Khalifa, also issued an order Thursday, promoting 2900 BDF military personnel, from commissioned officers to individuals and from various ranks, within the Kingdom's celebrations of the BDF's 49th Anniversary on February 5. This gesture comes in recognition of the BDF servicemen's efforts and years of service.
The Commander-in-Chief affirmed the keenness and directives of His Majesty King Hamad bin Isa Al Khalifa, the Supreme Commander, to constantly appreciate and support loyal Bahraini servicemen.
He lauded the dedicated efforts exerted by the newly-promoted military personnel, as well as the great services they have provided to the nation through defending it under various circumstances and times, wishing them further success.
He also urged them to continue their dedication, double their efforts and mobilize all their potentials to better serve the homeland.
Meanwhile, the Chief of Staff of Bahrain Defense Force (BDF) Lieutenant General Dhiab bin Saqr Al Nuaimi inaugurated Thursday the candidate officers session number 13 (Al-Qadisiya Batalion) at Isa Royal Military College (photo).
The college Commander gave a speech in which he welcomed the BDF Chief of Staff and thanked him for patronizing the session and supporting the college's programs and activities.
The BDF Chief-of-Staff praised the candidate officers in the session, calling on them to hold on to the noble military ethics emanating from Islam and the inherent Arab values.
The inauguration ceremony was attended by Assistant Chief of Staff for Human Resources Major General Sheikh Ali bin Rashid Al Khalifa, Assistant Chief of Staff for Operations Major General Ghanim Ibrahim Al Fadhala and Military Training Director Brigadier Salah Rashid Al Sa'ad.
Lieutenant-General Dhiyab bin Saqr Al-Nuaimi, also chaired the meeting of the Joint Security Committee, at the BDF General Command on Thursday.
The meeting explored means to enhance the cooperation and coordination among military and security agencies in the Kingdom for the interest of the nation and the citizens' welfare.
Inspector-General, Major-General Abdulla Hassan Al-Nuaimi, Customs President, Sheikh Ahmed bin Hamad Al Khalifa, Assistant Chief of Staff for Supply and Catering, Rear Admiral Yussef Ahmed Malallah, Royal Bahrain Naval Force (RBNF) Commander, Rear Admiral Sheikh Khalifa bin Abdulla Al Khalifa, as well as a number of senior officers and officials from the relevant sides were also present.

Source