24 Apr 2018
BIDEC Wins Prestigious Award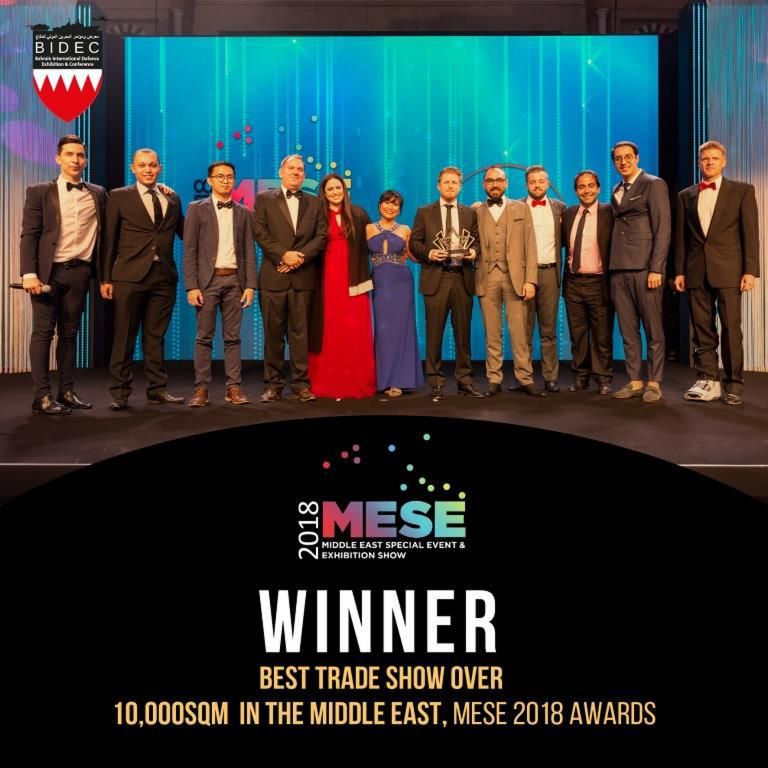 24th April 2018: Bahrain International Defence Exhibition and Conference (BIDEC 2017) has won Best Trade Exhibition Over 10,000sqm at the Middle East Special Events Awards. This award is the most important industry recognition in the region and the only official prize in the Middle East endorsed by the worldwide International Live Events Association ILEA. The MESE 2018 committee includes a line-up of judges from outside the Middle East who independently vote on each submission with a strict criteria set by the leading global experts within the field. MESE is organised by USA publication 'The Special Event', which is the world's largest event's professionals magazine and portfolio. The 2018 edition received a record number of submissions from all types of GCC-based event organisers across 25 different categories.
Thomas Gaunt, BIDEC Event Director said "We are all extremely proud of how well BIDEC 2017 went and this award recognises the efforts of everyone involved who helped to make it a resounding success. He added "With the same level of support from all sections of Bahrain Defence Force, Ministry of Foreign Affairs, Ministry of Information Affairs and of course our Chairman, H.H. Shaikh Nasser bin Hamad Al Khalifa, we truly believe that BIDEC 2019 can be even more of a success and Bahrain can continue to be a major hub in the Middle East for events of this stature."
BIDEC was shortlisted alongside four other finalist events for the award, beating established events that have run for several editions. This award recognises exhibition organisers who demonstrated how they exceeded expectations in terms of visitor numbers, exhibition sales, promotional campaigns, results to budget, innovation and marketing techniques, which led to growth and enhanced service excellence of the event and its industry sector. The award announcement was made at the MESE 2018 gala dinner, at the prestigious Madinat Jumeirah Johara Ballroom in Dubai, UAE on 23rd April 2018.
The next instalment of Bahrain International Defence Exhibition and Conference will again be organised by Clarion Events, the world's largest organiser of defence and security exhibitions, and will take place on 28-30 October 2019 at Bahrain International Exhibition and Convention Centre.