17 Jul 2017
Chief of staff receives Jordanian military official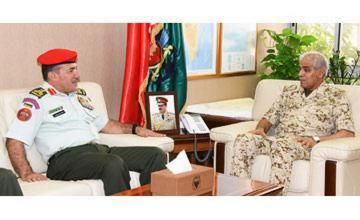 Manama, July 17 (BNA): Chief of Staff of the Bahrain Defence Force, Lieutenant-General Dheyab bin Saqr Al-Nuaimi, received here today the Commander of Royal Military Police at the Jordanian Army, Brigadier-General Mukhallad Awadh Al-Zayood, and his accompanying delegation.

The chief of staff reviewed with the Jordanian military official the brotherly Bahraini-Jordanian cooperation.

They also discussed issues of common interest.