28 Sep 2017
Exclusive McLaren 570S Presented to HH Shaikh Nasser bin Hamad Al Khalifa to Celebrate the Inaugural BIDEC 2017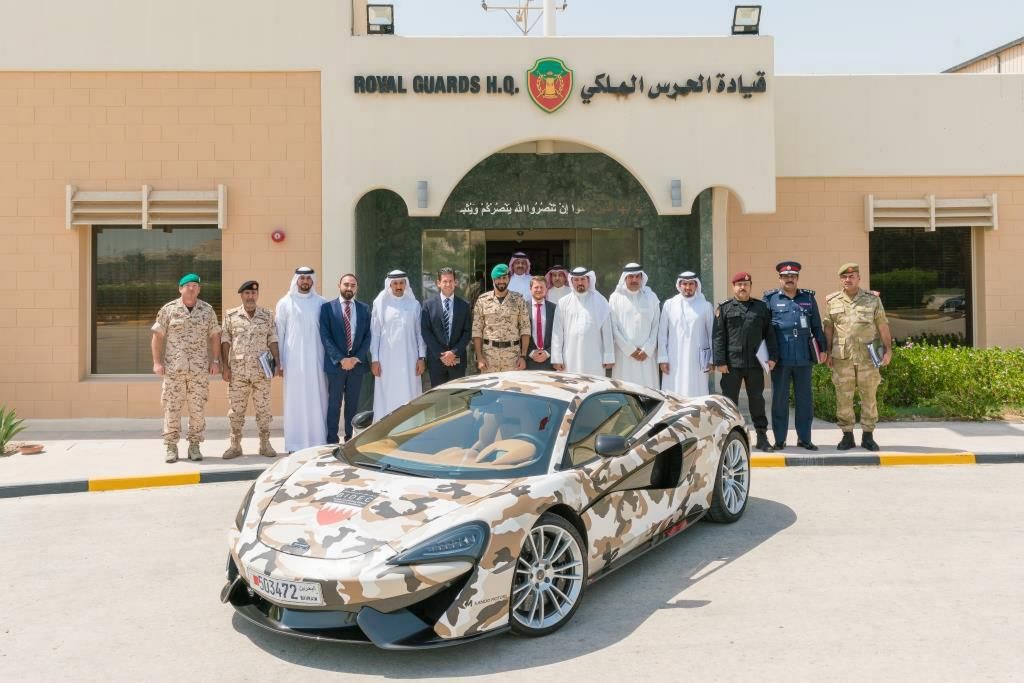 Riffa, Bahrain, 26th September 2017 - Following a briefing at the Royal Guard camp in Riffa, Kingdom of Bahrain on the latest preparations for Bahrain International Defence Exhibition & Conference (BIDEC 2017), His Highness Shaikh Nasser bin Hamad Al Khalifa, Commander of Bahrain Royal Guard and Chairman of BIDEC, received from Trevor Fletcher, the Head of McLaren Bahrain, a McLaren 570s supercar distributed by Kanoo Motors wrapped in military camouflage to match with the event's theme.
HH Shaikh Nasser Bin Hamad al Khalifa has a visionary idea to bring awareness of the inaugural BIDEC 2017 by wrapping a premium car in military colors with the BIDEC logo to visit various locations and events in Bahrain. The unique McLaren will be the most photographed car in Bahrain in the lead up to BIDEC, which is taking place 16-18 October 2017.
During the presentation of the supercar Trevor Fletcher, Head of McLaren Bahrain commented: "As an iconic luxury car brand, McLaren is honoured to support HH Shaikh Nasser Bin Hamad Al Khalifa and BIDEC, Bahrain's first international defense show which will be attended by various dignitaries and VVIP's from all over the world. This high profile event aligns with McLaren's spirit of exclusivity and our relentless drive to push the limits of possibility."
Thomas Gaunt, Event Director for BIDEC 2017 also said: "We are proud to form this unique partnership with McLaren which will provide BIDEC with an outstanding promotional opportunity as we approach the show. BIDEC will be Bahrain's premier international defence show, so it is the perfect fit to associate ourselves with a premium international brand like McLaren."
The car will also be on display at the show, which is taking place at Bahrain International Exhibition & Convention Centre. The Senior Committee of BIDEC were extremely impressed with the turnout of the vehicle and look forward to seeing it to up and coming events around Bahrain.
Registration for the exhibition on 16-18 October is free of charge at www.bahraindefence.com