01 Mar 2021
HM King visits BDF General Command, lauds staff's outstanding efforts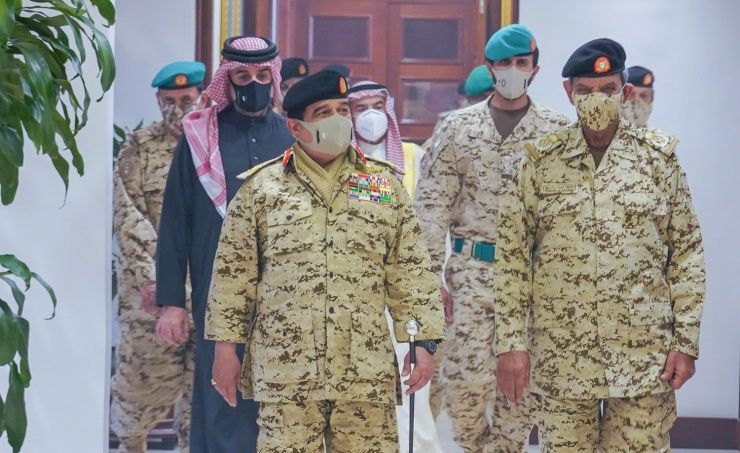 Manama, Mar. 1 (BNA): His Majesty King Hamad bin Isa Al Khalifa, the Supreme Commander, today visited the General Command of the Bahrain Defence Force (BDF) where he was welcomed by BDF Commander-in-Chief Field Marshal Shaikh Khalifa bin Ahmed Al Khalifa, Minister of Defence Lieutenant General Abdullah bin Hassan Al Nuaimi, National Security Adviser and Commander of the Royal Guard Major General His Highness Shaikh Nasser bin Hamad Al Khalifa, Chief of Staff Lieutenant General Dhiab bin Saqr Al Nuaimi and senior officers.
HM the King was accompanied during the royal visit marking the closing of the celebrations by the BDF of the 53rd anniversary of its establishment by the Personal Representative of HM the King, His Highness Shaikh Abdullah bin Hamad Al Khalifa.
HM King Hamad praised the numerous and significant achievements and projects launched on the special occasion, and lauded the efforts exerted by the BDF to celebrate the national anniversary.
The Supreme Commander also praised the BDF efforts in confronting the coronavirus (COVID-19) as part of the national campaign to combat the global epidemic as well as noble contributions and the readiness of medical services that included providing facilities equipped with the latest curative health supplies and preventive means through qualified and specialised medical personnel.
During a briefing on plans to develop all BDF units, HM the King expressed pride in the BDF staff and their constant readiness, stressing they are highly appreciated and a source of pride for Bahrain and its people.
The Supreme Commander wished the brave BDF staff further success in their various capacities in Bahrain and abroad and Bahrain continued progress and prosperity.