24 Feb 2017
Khalid bin Hamad meets defence firms to discuss BIDEC 2017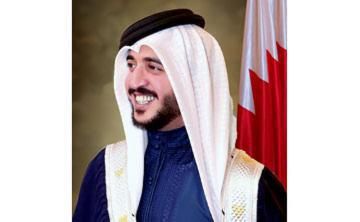 Manama, Feb.24 (BNA): His Highness Major Shaikh Khalid bin Hamad Al Khalifa, Commander of the Royal Guards Special Force in Bahrain Defence Force, met with several companies and institutions that wish to participate in Bahrain International Defence Exhibition and Conference 2017 (BIDEC), which will be held under the kind patronage of His Majesty King Hamad bin Isa Al Khalifa.

The event will be held from October 16-18 and is considered to be a major opportunity to exchange ideas and experience on current security developments within the military field.

This comes as implementation to the directives of Brigadier-General HH Shaikh Nasser bin Hamad Al Khalifa, Royal Guard Commander, President of the High Organizing Committee for BIDEC 2017, as HH Major Shaikh Khalid bin Hamad Al Khalifa reviewed the companies and organizations' programme and what they will present in advanced techniques and latest military developments.

His Highness expressed his pride and gratitude with the Kingdom of Bahrain's hosting of this international military exhibition which will be held under the auspices of HM The King, the Supreme Commander, May God Protect Him. His Highness stressed that this international exhibition will have a positive impact on Bahrain Defence Force to help keep up with modern development in military systems.

HH Major Shaikh Khalid bin Hamad Al Khalifa said: "The exhibition has many goals, through which Bahrain Defence Force will benefit by achieving its ambitions and aspirations, as this conference has wide participation from many distinguished companies, institutions and military organizations of all sectors including, ground, air and sea."

His Highness explained the participation of the Saudi-led Arab Coalition to restore legitimacy to Yemen and North Atlantic Treaty Organization (NATO), is a clear indication on the importance of the conference.