13 Jul 2017
Russian companies briefed on BIDEC 2017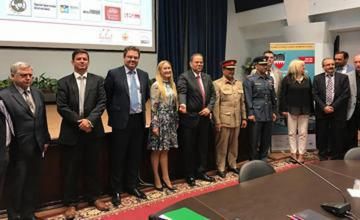 Manama, July 12 (BNA): A delegation from Bahrain Defence Force gave a briefing to Russian companies on Bahrain International Defence Exhibition and Conference (BIDEC) 2017.
The briefing at the headquarters of Rosoboronexport was held in cooperation with the Embassy of the Kingdom of Bahrain in the Russian Federation and was attended by the Ambassador of Bahrain to Russia, Ahmed Abdulrahman Al-Sa'ati, Colonel Adnan Mohammed Al-Sada, Lieutenant Colonel Ahmed Ali Al-Rowaie, and the representative of "Clarion Events", the organizer if the exhibition.
Rosoboronexport Deputy Director General, Igor Sevastyanov and 15 representatives of Russian companies specialized in military industry, including "Kalashnikov Concern," "Rostec Corporation," "Federal Service for Military-Technical Cooperation" and "Ruselectroincs," attended the meeting from the Russian side.
Rosoboronexport Deputy Director-General welcomed Dr. Al-Sa'ati and the Bahraini delegation, highlighting the development of cooperation between Bahrain and Russia reflected in the numerous contracts that have been signed between the two countries in the fields of military and defence.
He affirmed Rosoboronexport's keenness, along with its partners and representatives, to actively participate in BIDEC 2017 and to enhance joint cooperation between Bahrain and Russia.
Al-Sa'ati expressed thanks and appreciation to Rosoboronexport's officials for providing the opportunity to brief Russian companies on BIDEC 2017 and to promote Russian products in the Middle East.
He highlighted the development of the Bahraini-Russian relations, which was evident in the visit of His Majesty King Hamad bin Isa Al Khalifa to Moscow on September 5-7 last year, during which HM the King was the honorary guest of the Russian Army-2016 Expo. The visit also resulted in signing agreements and memorandums of understanding, most important of which was the establishment of the Joint Governmental Committee for commercial, economic, scientific and technological cooperation, as well as military cooperation.
The Sales director and the representative of "Clarion Events" gave a presentation of the exhibition, logistical and technical topics related to the participation of Russian companies, the spaces allocated to them and the number of participants from foreign countries.
The representatives of the Russian military companies raised questions and queries to the representatives of the Bahrain Defence Force, regarding logistic and technical topics.
The representatives of Rosoboronexport and other Russian military companies affirmed their keenness to participate actively in such exhibitions, highlighting the importance of the GCC to the Russian military products.