14 Dec 2016
Saudi Arabia receives first F-15SA Eagle fighters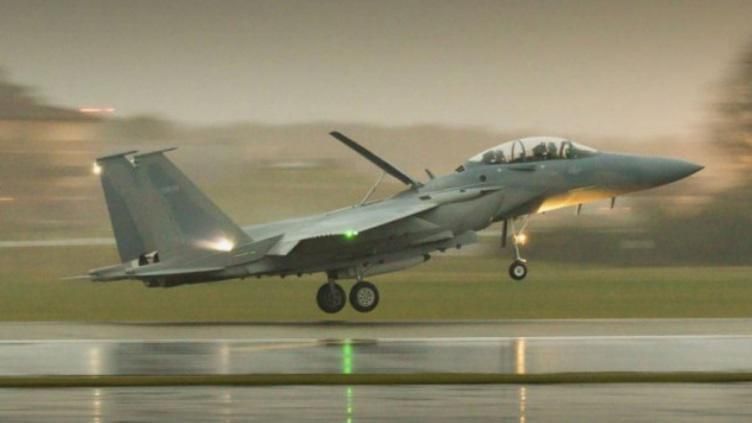 The first of 152 Boeing F-15SA (Saudi Advanced) Eagle fighters arrived in the Kingdom on 13 December.
Images showing the initial four aircraft, comprising two remanufactured F-15S (93-0857 and 93-0899) and two newbuild F-15SA platforms (12-1006 and 12-1010), arriving at King Khalid Air Base (KKAB) in Saudi Arabia were posted online following a four-day ferry flight from the United States via the United Kingdom. A further two aircraft are expected to begin the journey imminently.
While there has been no official word of the delivery from either the Royal Saudi Air Force (RSAF) or Boeing, the event was charted on social media, by aircraft enthusiasts, and through internet radar tracking sites. The ferry flight was reportedly delayed slightly due to serviceability issues with the US Air Force McDonnell Douglas KC-10A Extender tanker aircraft that trailed them across the Atlantic Ocean and onwards from the UK.
As the most advanced variant of the Eagle built to date, the F-15SA features two additional hardpoints (from 9 to 11) and weapon systems; upgraded avionics (with a digital 'glass' cockpit, joint helmet-mounted cueing system, and a disorientation recovery capability); a BAE Systems Digital Electronic Warfare System/Common Missile Warning System (DEWS/CMWS); fly-by-wire controls; an infrared search-and-track (IRST) system; the Raytheon AN/APG-63(V)3 active electronically scanned array (AESA) radar; and more powerful General Electric F110-GE-129 engines.
Deliveries of 84 newbuild and 68 remanufactured F-15SAs were originally slated to run from 2015 through to 2019. However, problems reported in development have pushed this schedule back by approximately 12 months. The part Boeing-owned Alsalam Aircraft Company near Riyadh is building the wing sets for the remanufactured aircraft.
As revealed in August, the RSAF F-15SAs are to be operated by 55 Formal Training Unit (FTU) and 6 Squadron (currently an F-15S unit) at King Khalid Air Base (KKAB) in the south-west of Saudi Arabia; by 29 Squadron (not currently stood-up) at King Faisal Air Base (KFAB) in the north-west of the country; and by 92 Squadron (currently an F-15S unit) and the Fighter Weapons School at King Abdulaziz Air Base (KAAB) on the Gulf coast near Bahrain.
Source: http://www.janes.com/
Link: http://www.janes.com/article/66203/saudi-arabia-receives-first-f-15sa-eagle-fighters